Darren's Thoughts on Chuck Berry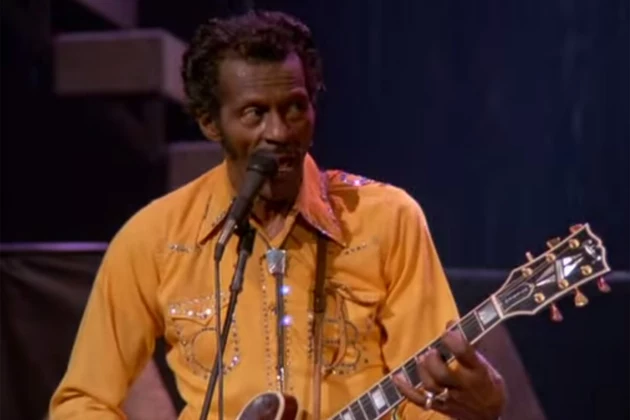 Although I wasn't even born when he first emerged, the great thing about Chuck Berry's legacy on rock 'n' roll is that it's not complicated. Quite simply, none of what we listen to today would be possible without his singular approach to both songwriting and record making. He was that good – to the point and uncomplicated.
First off, why spend a lot of pretty words on Berry's legacy when one album will do it for us? In high school, I bought the CD reissue of the definitive Chuck Berry collection. The Great Twenty-Eight.  this is the collection which from "Maybelline" onward  shows the whole world the building blocks of rock 'n' roll. There have been more recent compilations with more tracks, but these 28 records tell the tale.  Not a second is wasted, not one cut a misstep. There's only one omission, one crucial track missing which is "You Never Can Tell."  (A few years after, the purchase of the Pulp Fiction soundtrack corrected that oversight.) A purist's delight, on The Great Twenty-Eight all the tracks are presented in their original mono single mixes.  It can be had on the cheap from Amazon.com.
Late last year, I saw a good deal online for a two-fer on one CD of two of Chuck's best LP's.  It was a deluxe reissue made by the fine folks at Mobile Fidelity Sound Lab, the people behind the "original master recording" series of LPs and CDs.  They have the two albums Chuck Berry is On Top and From Liverpool to St. Louis back to back. There is about a nine year difference between the two albums,  but stylistically they're not that far apart. Sound quality is superlative, although some tracks on the older album, including Maybelline, are showing signs of decay.  It's a little bit more expensive than most compact discs, but it is a limited numbered edition. It's the best 20 bucks I ever spent!
I've been seeing some people call Chuck Berry the true king of rock 'n' roll. It's politically correct to denigrate Elvis, but it's not cool either way. Elvis never asked to be king, he only wanted to be Dean Martin.  Failing that, he just wanted to be himself. He never liked the "king" title, and would often say there's only one true king, and that's the one he saying about on "How Great Thou Art."  Plus, Elvis is not here to defend himself, and, truth be told, his cultural contribution is larger than any one single figure in rock history.  Knocking Elvis down does not lift up Chuck Berry.
The title best suited for Chuck Berry is that of "the architect of rock. "  There are whole subdivisions of this great music we call rock 'n' roll that were created by and/or inspired by the work of Chuck Berry.  He's the Frank Lloyd Wright of rock!  And you didn't know this, but because he fused all the music he heard in Missouri – blues, jazz, country, up-tempo R&B – his vision of rock 'n' roll is complete.  I hear his guitar work and wordplay in virtually every record out, even on the hip-hop stations. When you hear "Roll Over Beethoven" or "School Day," what else is that but rapping?  Rock song writing would not have produced such amazing wordsmiths as Bob Dylan, Smokey Robinson, or anyone else without Chuck. Even " Louie Louie" is seen as something of a sequel to Berry's own "Havana Moon."
Finally, it is an absolute crime, but the man who wrote "Johnny B. Goode" and "Roll Over Beethoven" only had one number one hit, and it was "My Ding-a-ling" in 1972.  He never saw how bad that record was – an even bigger shame.